Open Doors for a Bold Witness
"When we were talking at our Sunday luncheon about Romans 1:15, "For I am not ashamed of the gospel, because it is the power of God that brings salvation to everyone who believes: first to the Jew, then to the Gentile,…" some thoughts came to me about some of the qualifications for us as believers, and a testimony from Steve's experience.
Some of the qualifications for being a successful witness are: being bold, being obedient, perseverance, and being close to the Lord.
At the end of one of our furloughs to the U.S., the Lord told Steve He wanted him to go to minister at one of the large hospitals in Suriname.  So when we returned to Suriname, Steve went.  On his first visit, he went into the hospital and met one of the head nurses.  When he told her what he wanted to do, she told him he would have to get approval from the religious groups who already worked there (primarily Catholic and Moravian.) Steve went to the car somewhat discouraged, but the Lord stopped him and said, "Go back."  So he went back in and went to another floor.  When he talked to the head nurse there, she told him, "I have two men I want you to visit."  He went and she told him, "you can go to anyone on my floor you wish to."  So began his ministry there which led to his involvement with Hospital Christian Fellowship; meeting with believing nurses for prayer.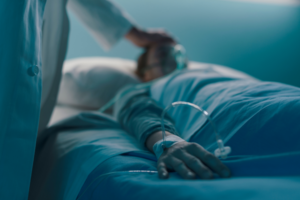 Sometime later, Steve was sent to a man in the hospital named John who had an amputated leg due to diabetes, as well as pancreatic cancer.  He was very depressed at the prospect of his other leg being amputated.  Steve began visiting him regularly (he was in the hospital for 7 months,) and eventually accepted the Lord.  When he got out of the hospital, Steve continued discipling him.  At one point, Steve had invited a man to visit John and this man brought the verse in Mark 9:45, "And if your foot causes you to stumble, cut it off.  It is better for you to enter life crippled than to have two feet and be thrown into hell."   After that, John told Steve a couple of times how that verse applied to him because his feet were not bringing him where he needed to go until the Lord met him.
One precious thing the Lord did which we will never forget was when we were on furlough in the States some time later, and one day while walking our youngest to school, the Lord told Steve, "John is home."  Steve knew this meant John had died and gone home to be with the Lord.  A month later, he got a letter saying that the night before Steve had gotten the message from the Lord, John had passed away.  The Lord wanted Steve to know that because Steve had persevered and gone back into the hospital, he was able to bring John to a knowledge of the Lord!  THAT is relationship!  This reminded me of the story of Abraham when the Lord told him about His plans for Sodom and Gomorrah because Abraham was God's friend and he wanted Abraham to know what was about to happen.  
Be Bold!  Be Obedient!  Persevere!  Be Close to the Lord!"