As we step into this new year, let's refocus our lives with Jesus at the center and everything else stripped away. Consider Paul's directive to the church in Ephesus: Ephesians 4:22-24 (Amplified) – Strip yourselves of your former nature [put off and discard your old unrenewed self] which characterized your previous manner of life and becomes corrupt through lusts and desires that spring from delusion; And be constantly renewed in the spirit of your mind [having a fresh mental and spiritual attitude],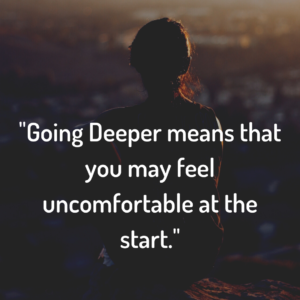 And put on the new nature (the regenerate self) created in God's image, [Godlike] in true righteousness and holiness.
Going Deeper means that you may feel uncomfortable at the start. This is why we must refocus our attention on the God of the universe and step out into deeper waters. Just as Peter stepped out of the boat to walk on the water toward Jesus, we must step out of our comfort zone in order to have that deeper relationship with God that we desire. What happened next? As long as Peter's focus and attention was on Jesus, he stayed on top of the waves. As soon as his eyes went to his surroundings, he began to sink. We must refocus our eyes on Jesus, the Author and Finisher of our Faith, and rely on Him alone when things begin to feel uncomfortable or unsteady in life.